What would be the right configuration for a basic radar training system for ATCO and ATSEP? This article proposes a reference solution.
In this article we propose and comment a generic solution. Definitely it will need to be adapted to specific requirements of an ATC academy.
We will talk about a radar, and features which we perceive to be important in radar training.
NextGen 8 GHz Primary Surveillance Pulse Radar
Let us start with a radar. We suggest an 8 GHz pulse radar, as x-band is the typical band for long range radars.
SkyRadar'S NextGen 8 GHz Pulse / Doppler Radar Module consists of- one (1) transceiver and antenna unit 8 GHz,
one (1) horn antenna with adjustable inclination
one (1) parabolic reflector with adjustable inclination
one (1) digital signal processing unit (DSP)
one (1) motor control unit (only activated when rotary unit is added)
one (1) cable set.
For more details please follow the LINK to the product page
In the basic configuration, 5 learners can concurrently access the radar on independently conduct experiments, based on a stream of I and Q data, which is fed into their virtual control center on their computers. This virtual control center is called FreeScopes.
The number of concurrent users can be increased to > 1000 when using the SkyRadar CloudServer. CloudServer is a server which will be installed on the academy's premises. It has to task to provide an uninterrupted flow of I and Q data to all learners through the academy's ethernet, or even through the extranet for learners outside the academy's phycial premises (during COVID-19, this turned out to be an important feature).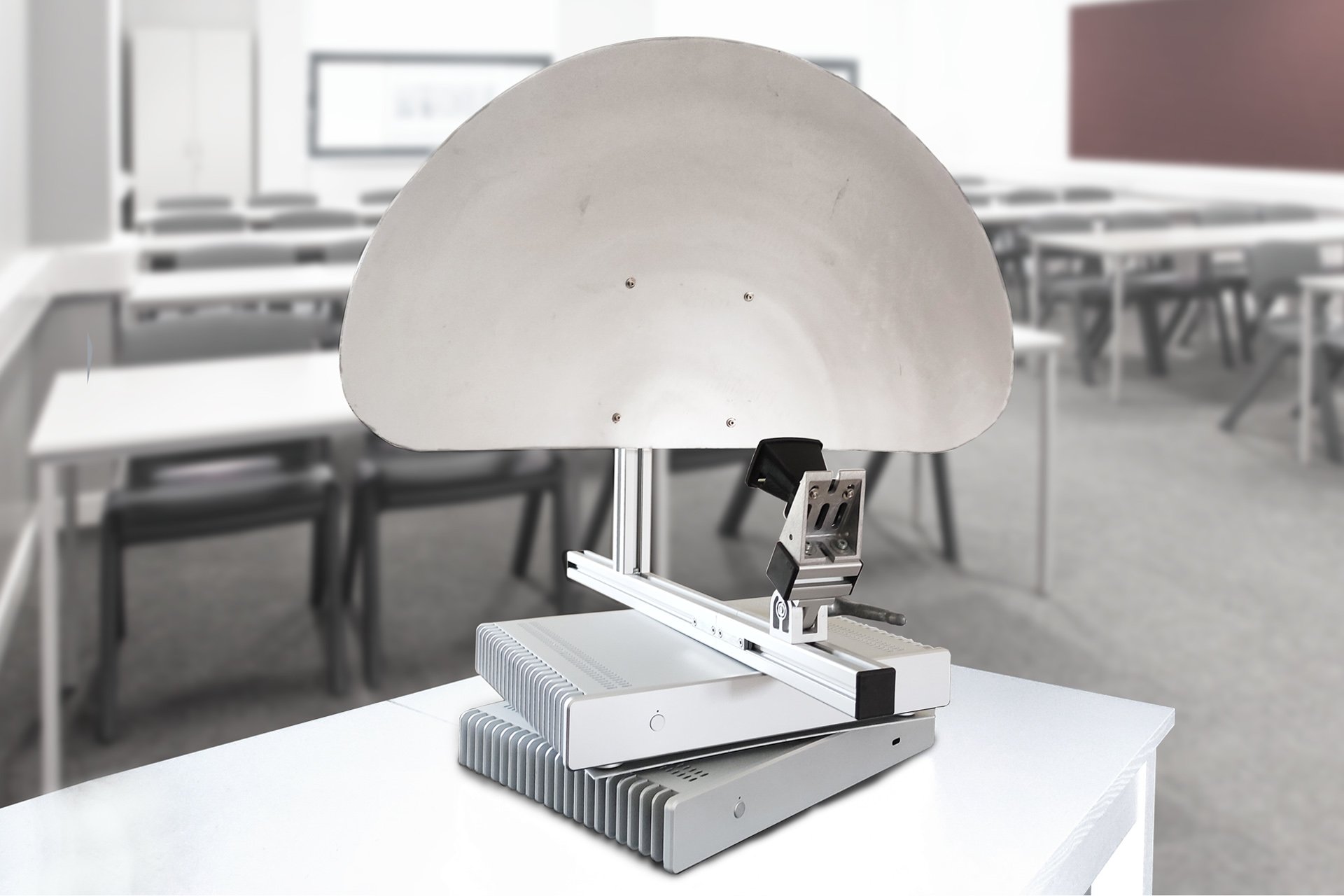 The system includes a horn antenna, a parabolic reflector and a radar transmitter and receiver. It provides dual channel supply of raw data, the I data and the Q data. The solution benefits from its high digital resolution.
Range Resolution: better than 10 cm
Range: up to 25 m
Tx center frequency): 8 GHz
Tx bandwidth: 1.4 GHz
Pulse Width: 0.5 nsec
Peak Pulse output power: -0.7 - 6.3 dBm
Max pulse repetition frequency. 40.5 MHz
Rx sampling rate: 23.3 GS/s
Rx gain: 12.3 - 15 dB
Rx noise figure: 5.4 - 8.8 dB
Elevation: 68°
Azimuth: 68°
Update rate (signal processing) > 100 frames per second (fps)
Tx output power is variable (low, medium, high)
Pulse repetition frequency (PRF) is variable
NextGen 8 GHz FreeScopes Basic I
The first module which we suggest is FreeScopes Basic I.
It is a basic configuration of a Virtual Radar Control Center, allowing for control and visualization of the 8 GHz pulse radar

The principles of Radar Systems can be trained.
The Control Center reads out I and Q data, from SkyRadar's 8 GHz NextGen Pulse Radar.
It includes several controls such as
Tx Power Control
FFT
Threshold limiter
STC
Contrast
The users are enabled to independently run experiments on their computers.


Thanks to a high resolution dual channel sampler, FreeScopes allow to analyze the I and Q data independently and in an integrated version. This performance exceeds the performance of any other existing radar training system worldwide.
NextGen 8 GHz FreeScopes Basic II
We also suggest to use the FreeScopes Extension Basic II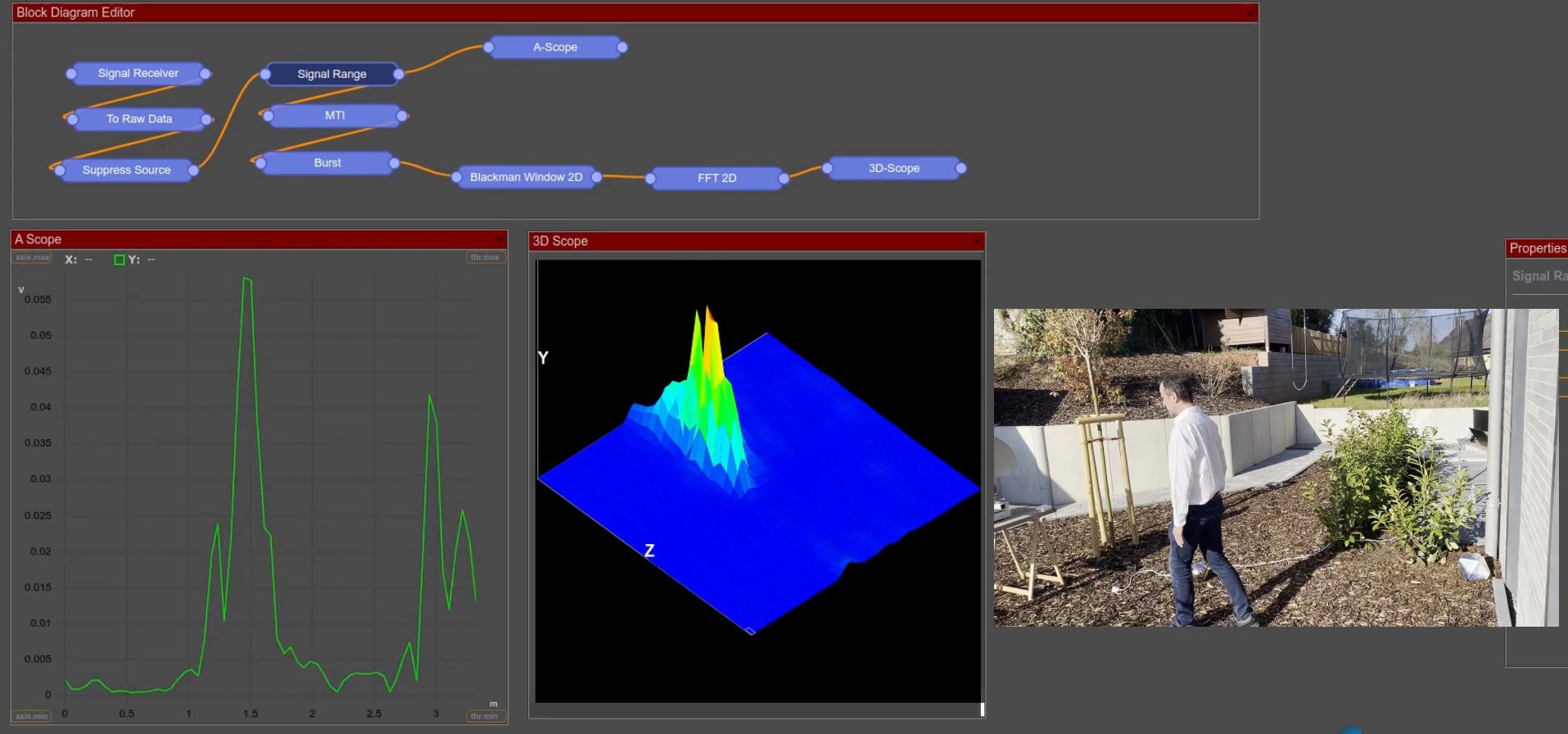 The Module provides a set of features including:
MTI (Moving Target Indication)
C-FAR
RCS
Windows Functions ( Hann, Hamming, Blackman and more)
NextGen FreeScopes ATC
This module is mandatory for ATCO and ATSEP students.
The FreeScopes ATC Module provides a set of features including:
Radar Plots
Radar Tracks
Enhanced MTI including Moving Target Detection (MTD) and state of the art tracking techniques. The visualization is done in compliance to the standards of ICAO and EUROCONTOL.
It makes the step from the theoretic understanding of the radar image to typical conventions on how target plots and tracks are displayed.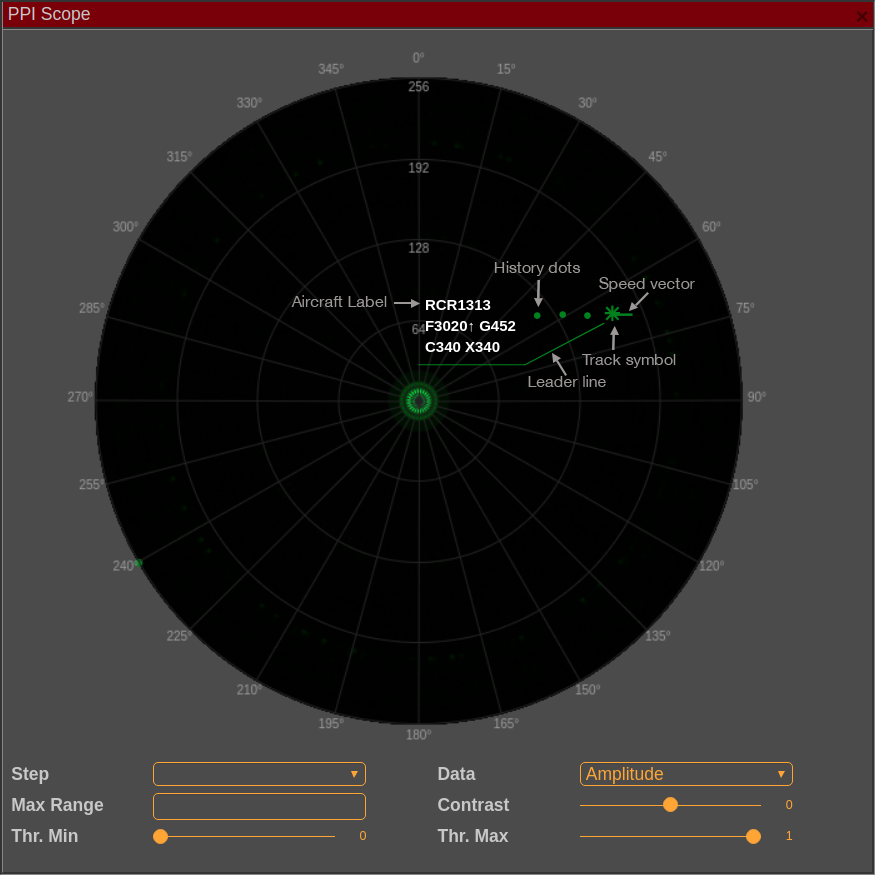 This feature is missing in most of the training radars available in the market, but it is mandatory for ICAO 10057 oriented qualification.
Rotary Tripod (NextGen)
To conduct exact measurements in the PPI, the arrangement needs an accurate rotary device. We suggest to Rotary Tripod which is driven by a step motor.

Cloud Server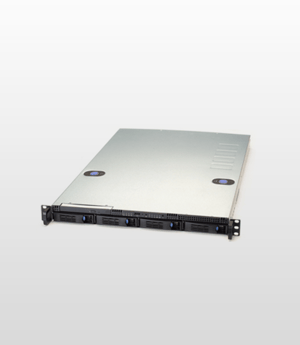 A seminar, where most of the students watch and only few have access to the radar control center will not be satisfactory.
Therefore SkyRadar provides a solution which allows for many students to access the radar concurrently. This can even happen remotely.
The server hardware builds on a Hewlett Packard Enterprise Server with a LINUX-based operating system, WLAN to connect with an unlimited amount of SkyRadar sensors or simulators and an Ethernet bridge to interface the academy network.


The SkyRadar Cloud Server software manages all traffic and allows connection to customer LMS (SCORM-based). This CloudServer will be physically located within the premises of the customer.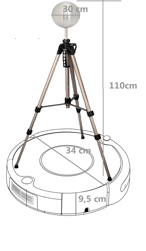 NextGen Target Positioning System
SkyRadar's 8 GHz training radar is high resolution. Any object can serve as reflector. But SkyRadar introduced an economical robot to position the targets. The remote controlled movable device has been developed for inside applications. It is able to move freely in the laboratory without any of the limitations of a target table or a rail system.
PSR & SSR Simulator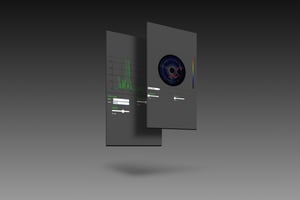 We slowly build the bridge to Aerodrome and Radar (APP/ACC) simulators. This simulator is based on complex technical models on Pulse, CW and FMCW-radars, on SSR, ADS-B, TCAS and more. A comfortable pseudo-pilot screen allows to set the scene and to place aircraft (with different positions, speed and height) in the sky. An unlimited amount of concurrent Controller Work Positions (CWP) can analyze primary and secondary radar images through scopes like A-Scopes, B-Scopes or PPI-scopes and play on controls and filters.
After having used the simulator, ATCO and ATSEP are ready to work on the radar simulator. Both should return to the training radars for
Learning, Self-Learning and e-Learning
We share a multitude of free learning content to round up the suggested training system:
https://www.skyradar.com/blog/topic/theory-research
In the frame of projects we add PowerPoint presentations as well as teacher and student guides.
Many Videos shared
Additionally to the learning documents, we share many videos as additional illustration. Here for instance the example of antenna design.
Social Distancing - it works with SkyRadar!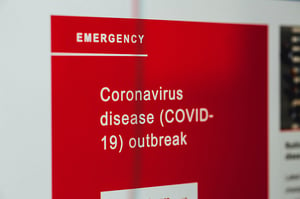 All SkyRadar products, which we suggested in this reference architecture can be deployed in a distance learning approach, where the students log in from their accommodation, or from home (if it has reasonable Internet access).
The products can be included into learning management systems like Moodle. The lecturer can operate the radar in the laboratory, and can communicate with the students through online tools like Zoom. He or she can give students direct access to the radar so that they work on the solutions in real-time.
In many countries, such systems are subsidized by the government.
Among our customers there are renowned institutions like the Mohammed VI Academie Royale d'Aviation Civile who gained international acclaim through their distance learning concepts in times of COVID-19.
Next Steps
With many systems delivered and trained across the globe, we can look back on many use cases, pedagogical questions and solutions. Talk to us and let us discuss your specific solution.
It is also possible to talk about more holistic solutions, including Tower Simulators or Airport Research and Firefighting systems.
Answers on Typical Questions