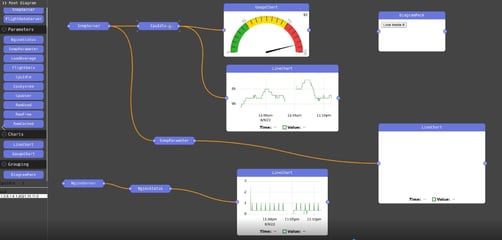 NextGen Training Systems for Aviation Academies & Universities
#1 Global Supplier of Aviation Training Equipment from Radars to Tower Simulators
SkySMC - SkyRadar's System Monitoring and Control Suite is a pedagogically enhanced, fully operational monitoring tool. We have optimized it to cater for the ATSEP-SMC training compliant to EASA's Easy Access Rules for ATM-ANS (Regulation (EU) 2017/373) and ICAO Doc 10057.
SkySMC is not a simulator, but a fully operational open monitoring system. It comes by default with a server including various virtualized applications and virtualized servers.
Configurable Monitoring Software in "FreeScopes" style
Comfortable graphical configurator with block diagrams
Continuous (graphs over time) and discrete analytics (status indicators)
Various communication protocols including SNMP, JSON
Monitoring of any external system through IP-address and Object Identifier (OID).
simulated ATC environment including various virtualized applications and virtualized servers (standard).
connection to the 8 GHz Training Radar, motor and server (extension).
A fully operational

Air Traffic Management system

and tower simulator providing error messages (extension).
connection to a pedagogical server-rack with various servers, networks, UPS and possibilities to create faults and errors
connection to configurable sensor base

, allowing to monitor any device or system on parameters like voltage, current, illumination, pressure, temperature and many more and connected

technical training labs, enabling to set up a monitoring system and to train error fixing from scratch.
PREREQUISITES
EXTENSIONS