In this video, we present SkyRack ATM, the training infrastructure for system monitoring and control.SkyRack ATC provides the important use cases for ATSEP qualification in line with EASA's Easy Access Rules for ATM-ANS (Regulation (EU) 2017/373) ATSEP.BAP.SMC.
SkyRadar provides the SkyRack ATC as infrastructure for monitoring and control exercises with SkySMC, the pedagogical, but fully operating monitoring and control solution.
Features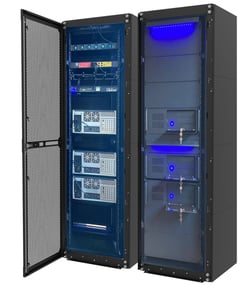 The standard features of the SkyRack ATM are:
Server cabinet with rack
3 server modules
Software applications and databases installed on the server modules
Switchable network routerboard 10 Ports for the selective interruption of network connection
Switchable power strip for the selective interruption of power supply
3 UPSs (min 3x750 W) with SNMP monitoring
Fan with thermostat
Fire detector with SNMP
LED illumination (blue)
Look at the datasheet for more details on each of the components.
And don't miss the details on SkyRadar's system monitoring and control software SkySMC.
Let's talk
Contact us to discuss possible solutions for your ATC training center. Calls are non binding and will definitely help shaping your vision for your ATSEP training infrastructure.

Talk to you soon and stay tuned!