SkyRadar provides airport firefighting solutions, compliant with international regulations. No other vendor is able to provide European safety and security standards and a holistic training solution, which blends seamlessly into the training equipment for other security relevant personnel (ATCO, ATSEP).
Aircraft fire training on a very high level
Aircraft fire training simulators are part of most modern airports these days. We can advise on relevant ICAO requirements and constructs training rigs at the current state of technology.
Stationary
An Aircraft replication is equipped with our burner modules. We design according to your needs different fire situations inside and outside the aircraft. The pictures at the left hand demonstrate one of the largest aircraft fire training simulators in Europe: A live sized replica of a Boeing 747 with an attached tail engine. External fires can be fuelled with either LPG or kerosene. The 10 internal burner modules were integrated in the existing aircraft fire training simulator and linked to the control system of an external provider.
Mobile Aircraft Fire Trainer
For smaller airports with lower categories a Mobile Aircraft Fire Trainer is a low cost alternative. SkyRadar has the necessary expertise to tailor such a project to our customers' needs and requirements.
Cabin Crew Trainer
Cabin Crew Trainers are conceivable in an almost infinite variety. We are available for consultation and practical supports to create the best possible option for our customers.
Distributed Control Systems for Firefighter Training
SkyRadar's distributed control systems as based on FreeScopes, exactly like the above described radars and simulators.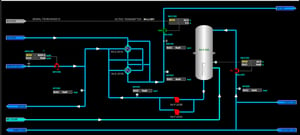 The DCS system is connected to the Airport Rescue and Firefighting solution. It visualizes existing or simulated processes and allows, jointly with the ARFF system to exercise realistic firefighting scenarios involving gas and kerosene tanks at airports.
Extended Reality with 3D Simulation Training
The real training scenarios are extended by a synchronized 3D replica of the real environment. Connected via sensors and API, the virtual reality shows exactly what happens in real life. When a system catches fire or a fire is extinguished, the same thing happens in the virtual reality. Many firefighters can act simultaneously. When a new virtual firefighter enters the scene, the others will see him/her too.
The striking thing: if our virtual firefighters extinguish a fire, it will abate in reality too.
Like with the real radars, a purely simulated version allows professionals to practice (continuation training) remotely.
Integrating ACC, APP, 3d TWR, GND, ARFF and DCS into one seamless solution
It will not be sufficient to train the experts independently to prepare them for an emergency.
They need to perform as a cross-sectional team. Therefore, already during training, we need to integrate ATCOs (they are probably the first ones who are aware of the approaching emergency), the rescue teams (fire fighters and ambulances), the technical control people (those who are in charge of the hazardous fluids) etc.
SkyRadar is the first manufacturer in the world who can provide in one integrated system:
Airport Rescue and Fire Fighting Training systems
Aerodrome simulators

fully integrated into the ARFFs
Radar and Navigation Training systems
Read more on the integration of Tower Simulators, ARFF and DCS: