Imagine, a radar and a sonar look at the same target. It can be a moving target, or a static one. Now you can look at both targets in the A-Scope and in the B-Scope. You will be able to play on filters to optimize the image. How does a sonar handle dynamic filtering (C-FAR), how does it detect moving targets.
And then you can compare radar and sonar in a PPI-scope once they start rotating. It is a feeling like in a James Bond movie. However, for the first time, the learner sees PPI-Scope images from radar and sonar one after another.
Going further, you can plunge the sonar sensor into a water basin and see how it performs there (radars are not operatable in water).
The NextGen Pulse Radar is a true close range pulse radar with a range resolution better than 10 cm, a range up to 25 m and a pulse width of 0.5 nanno-seconds. The sonar sensor is a high resolution 115 KHz sensor with a range resolution of 0.5% of range. Both work well until 25 m of distance.
The system operates with the SkyRadar FreeScopes Software which provides many scopes (A-Scopes, B-Scopes, PPI), control interfaces and filters. Customers can start small and extend the application over time, just by purchasing and downloading additional modules in our portal.
The radar transceiver is mounted into the horn antenna and is to a parabolic reflector. Antennas and transceiver are connected to a microcomputer for Digital Signal Processing. The device can be placed on a rotary tripod. The sonar sensor is replacing the radar antenna / reflector in the same condition and angle (making sure it produces the sonar images of the same target as the radar.
In addition, the sonar can be detached and placed into a water basin to operate under submarine conditions.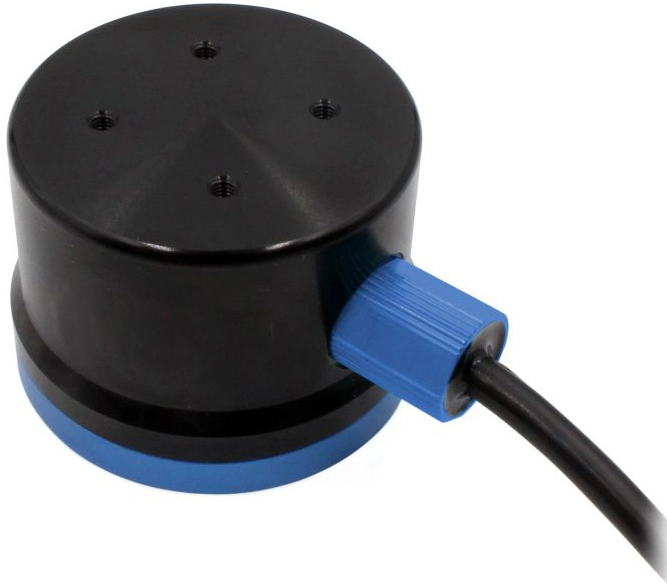 Figure: detached sensor for underwater measurements
This system has been developed for training and research in civil aviation, universities and industry. It does not include any special military feature.

Figure: Sonar image in B-Scope