Quadcopter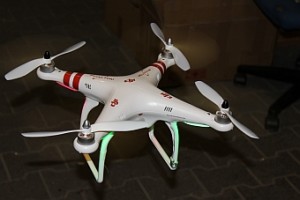 Part #: SkyRadar PSR-Target-Ver.5.
For Air-traffic-control or homeland-security-oriented users, SkyRadar suggest a blend of in-house and outside experiments. For the outside experiments, SkyRadar offers a remote quadcopter model as part of SkyRadar's Modular Radar Training System.
Parts
The Quadcopeter consists of:
One (1) remote controlled quadcopter including rechargeable batteries
One (1) remote control including batteries
Prerequisites
SkyRadar Base Unit
SkyRadar FreeScopes
Extensions
the whole Family of SkyRadar Modular Radar Training System
Contact us and ask for SkyRadar's modular Radar Training System.
SkyRadar Modular Radar Training System - Quadcopter

Drone /Quadcopter as moving target for experiments with the SkyRadar Modular Radar Training System

Brand: SkyRadar Modular Radar Training System

Manufacturer: SkyRadar

Model: SkyRadar PSR-Quad-Ver.5.0

Product ID: SkyRadar PSR-Quad-Ver.5.0

price on request, New