PSR SAR & iSAR
Part #: SkyRadar PSR-SAR-iSAR-Ver.5.01

PDF
Description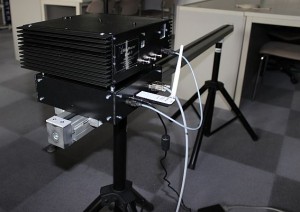 The SAR Module is an extension of the FMCW base. A step-motor-controlled linear axis allows movement of the transceiver and antenna and thus produces radar images with defined time-stamps and positions for SAR operations. SAR aggregates the data in a time-multiplex approach. SAR allows producing resolutions which go far beyond results of a normal antenna.
To run iSAR, the system requires the Mobile Target Positioning System to rotate the target.
Parts
The SAR Module consists of:
one (1) linear axis driven by a step motor with resolver
one (1) control unit providing

motor control
Wireless LAN connection with the Laptop Computer

One (1) SAR and iSAR management server

rack server

Intel® Celeron® Quad-Core J1900 SoC (2.0 GHz)

1 x Intel SSD S3520 150GB SATA-3 3,5 Zoll (Capacity: 150 GB)

management software licence
Prerequisites
Extensions
SkyRadar PSR SAR Hardware Features
Synthetic Aperture Radar (SAR) hardware setup, with servo controlled movement of the antenna on a linear rail.
Synthetic Aperture Radar (SAR) hardware setup, with DC-motor driven the antenna on a 200 cm linear rail .
Phased-Array through a 2-segment patch antenna Default operation in the k-Band.
SkyRadar PSR SAR Software Features
Wireless communication between Laptop and Radar element.
SAR –Scope, including one additional B-Scope mode with time-scale on the x-axis.
Very high resolution of the radar image through synthetic aperture image generation.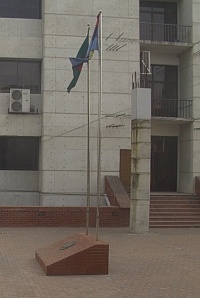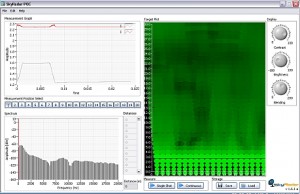 Flag monitored through a window
Contact us and ask for SkyRadar's modular radar training system.
SkyRadar Modular Radar Training System - SAR

The SAR Module is an extension of the FMCW base. A servo-controlled linear axis allows movement of the antenna and thus produces radar images with defined time-stamps and positions for SAR operations. SAR aggregates the data in a time-multiplex approach. SAR allows producing resolutions which go far beyond results of a normal antenna.

Brand: SkyRadar Modular Radar Training System

Manufacturer: SkyRadar

Model: SkyRadar PSR-SAR-Ver.5.0

Product ID: SkyRadar PSR-SAR-Ver.5.0

price on request New