This article introduces SkyRadar's Monitoring Training System for ATSEP. It trains ATSEP on rapidly locating errors or points of system degradation, on rapidly fixing them and keeping downtimes short.
The system includes a pedagogically enhanced monitoring environment. It connects to the various training laboratories by SkyRadar including
the 8 GHz Training Radar, motor and server
the Radar and Tower simulator
simulated ATC environments, individually available for each student
a representative hardware infrastructure
technical training labs, enabling to set up a monitoring system and to train error fixing
Detailed Introduction of the Monitoring System
In this laboratory, the trainees will learn the to use, apply, analyze elements of a monitoring system and the statuses. To get a deep insight and understanding, they will initially learn how to set up monitoring systems in ATC. Continuing from this knowledge, they will learn how to use monitoring systems in ATC to avoid system down-times and to achieve rapid system recovery incase of incidents. Senior trainees will be able to learn how to design internal procedures based on technical elements and their working environment.
REMOTE MONITORING TRAINING SUITE (SERVER AND SOFTWARE)
This system consists of an aviation oriented remote monitoring solution, helping to rapidly diagnose system degradations and to enable rapid recovery. It is on a rack server with sufficient power. It will then be accessible from all computers in the available laboratories for 8 GHz, electrical installations, electro-mechanics, electronics. In a small configuration, it will only be the 8 GHz radar.
The monitoring system is connected to special training infrastructure and a docker container based environment for remote monitoring experiments. The rack server and the special training infrastructure are installed in the remote monitoring laboratory.
Features of the Remote Monitoring Suite:
monitoring availability, performance and events related to ATC subsystems and network devices
software features include:

Configurable Monitoring Software
Continuous (graphs over time) and discrete analytics (status indicators)
Escalation guidance (disaster, high, average, warning,...)
Additional simplified training set up for basic familiarization in the technical labs
Various communication protocols including SNMP, JSON


DOCKER CONTAINER-BASED ENVIRONMENT AND SERVER
This subset of the solution includes:
docker-container based environment with typical applications and emulated data.
Applications including:

virtualized radars, servers
virtual applications and storage
virtual routers & software switches
virtual DHCP server

every student will get his independent docker container with emulated data and applications.
the teacher is able to centrally degrade this environment, and the trainees have to find and fix the degraded features. - each trainee independently from their computer
SPECIAL PHYSICAL TRAINING INFRASTRUCTURE FOR REMOTE MONITORING EXPERIMENTS
A physical environment represents in a simplified way a typical ATC infrastructure. This subset of the laboratory shall help to gain hands-on experience in bug-discovery and fixing. It includes:
special training infrastructure for remote monitoring experiments
physical environment of 3 servers, applications and databases, a physical network with routers and software switches, monitoring points and emulated data.
the teacher is able to degrade the system


Connection to technical training laboratories
The system allows to even include technical training laboratories which allow to set up training and monitoring infrastructures for
electronics (analog, sequential, combinatory)
analog and digital communication
microprocessors
cybersecurity-lab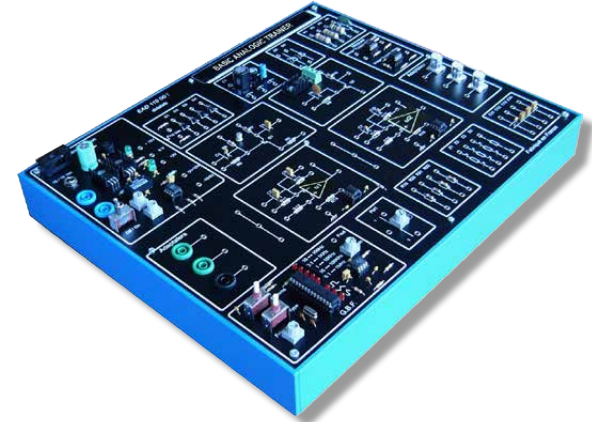 Talk to our experts and discuss your training and qualification needs. We will be able to configure the right solution within your budget.