Aviation processes are under pressure. The COVID-19 crises raised the demand for a slimming-down and optimization of processes. On the other hand, aviation logistics needs to be flexible enough to be able to rapidly react and adapt, when areas are under pressure, or in need of medical or other emergency supplies.
This article presents IATA's e-CARGO as suitable solution. Then it introduces SkyRadar's e-Cargo Training Suite.
Suddenly all the processes are different
All of a sudden, a crisis dictates all processes from A to Z.
Medical aid supplies need to be prioritized, other deliveries to be put on hold or to be sent back. At the same time many people are locked at home because of security regulations. Countries lock down and temporarily suspend landing permissions.
It is a moment where chaos must not dictate the agenda, but flexible processes and an IT system that is able to handle things rapidly, in a responsive way and error-proof.
IATA's e-Cargo processes - an existing and undervalued solution
Already a couple of years ago, IATA introduced the e-Cargo process. It is an end-to-end, digital implementation of all the supply chain task, including the security checks and customs and from sender to initial recipient. The physical processes can plug seamlessly into the process.
The MOP standard process to implement e-Cargo
A pragmatic, highly flexible, fully digitized and well-though way to implement it is to follow the MOP industry standard. MOP stands for 'Cargo iQ Master Operating Plan". Cargo iQ is an IATA not-for-profit membership initiative, set up with an objective to create and implement quality standards for the worldwide air cargo industry.
The group comprises about 80 major airlines, freight forwarders, ground-handling agents, trucking companies and IT solution providers. The industry standard is endorsed by TIACA, the Airport Services Association (ASA), the Cool Chain Association (CCA), and ULD Care, a non profit Canadian organization whose scope encompasses any aircraft unit load device (ULD) activity.
Understanding the MOP process for e-Cargo
MOP records each shipment process from the shipper to the consignee that comprises 19 main processes and 78 sub-processes.
MOP describes the key processes and sub-processes involved in transporting air cargo from shipper to consignee in a systematic and harmonized manner.
It is anticipated that this MOP will continue to evolve over time as requirements and industry processes evolve.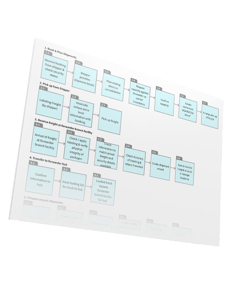 A total of 19 main processes have been identified in this MOP, from shipper's door to consignee's door. These processes belong to one of five categories of activities as follows:
Origin Forwarder
Origin Carrier
Transport Carrier
Destination Carrier
Destination Forwarder
The following diagram illustrates the master workflow: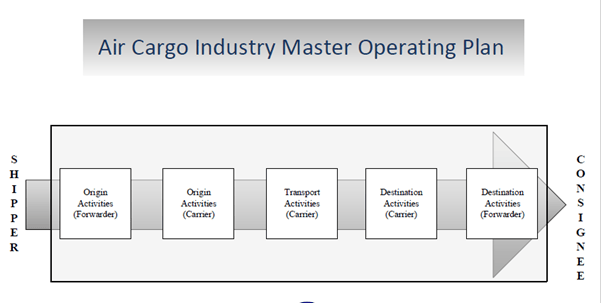 The Carrier part and the forwarder part screens capture the essence of the MOP: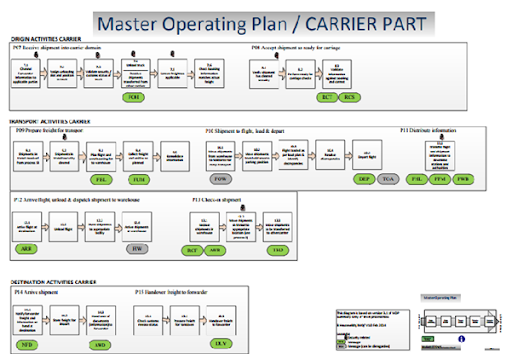 Training solutions helping to conceive, implement and excel e-Cargo
SkyRadar has developed training solutions around the e-Cargo process and related security requirements, for airports and aviation academies.
The training suite embraces the digital supply chain in a modular way and also provides a physical implementation of a cargo handling system (including a physical and simulated x-ray scanning system).
The following video gives an idea of the digital part of the supply chain.
Complemented with a physical cargo handling system including separation branches for suspicious are clearly hazardous / dangerous goods, the system is a strong training environment for operators within the supply chain from forwarders to handling personnel.
Even customs officers should be trained on the system, as the extended customs clearance process it connected to the MOP process.
The video below shows the connected x-ray scanner, working in conjunction with the physical cargo handling system.
Storage and separation is an important feature, as specific goods my needs to be selected and separated in an automatic way.
The system includes an x-ray cargo scanner or an x-ray simulator.
Setting up a training laboratory together
We would be delighted to discuss your training requirements with you.