Our "Cloud-Based Multisensor" Patent can pave the way for wearable and non-wearable devices in e-Health and general purpose IoT applications.
The patent is the European counterpart of the US patent 10,732,274 B2. This article explains the strong role it can play with companies investing in wearables, e-Health, IoT-Platforms and sensor technology. This European Patent has the filing date 25.03.2014.
e-Health, Internet of Things and Leisure - major markets concerned by this patent
When starting working on this patent, we were in the midst of the Internet of Services. People were starting to understand that the Cloud was more than bad weather.
But e-Health and the IoT were still sleeping beauties.
Today e-Health is on the rise, progressively gaining share in a global 7 trillion USD healthcare market. The IoT follows a similar path. The analytics site Statista estimates the IoT market to grow up to 1.6 trillion USD by 2025.
No wonder that the distribution struggle between the big players for market share and service providing ecosystem begun.
The Roles of a Patent, and why it can be valuable for companies competing Apple and other Tech Giants.
Companies like Google Nest or Apple are filling the eHealth and IoT landscape with patents. Of course, they want to protect their markets as early birds.
The following video describes Apple's e-Health related research and implementations.
Apple's initiative is wonderful, and doubtlessly their inventions promise to bring disruptive innovation and potentially save millions of lifes.
But these companies are not the Salvation Army, but profit making companies. And it is their legal right to defend their market based on patent against any potential "intruder".
Remember how Amazon some years ago tried to "own" the "one-click-purchase", until they were brought to reason by an impressively altruistic IBM, who first dismantled their claim and then made their invention (!) accessible to the great public for free.
In general see 3 main contributions in a patent:
it protects the patent owner's market and is an entry barrier for the competition. Hence they are often referred to as "asset" or "digital DNA" of a company. Something that can bring value to a company.
it can be a source of income for the patent owner, licensing it to companies for use against royalty fees.
cross-license deals may protect companies against being sued for patent infringement by the competition. In a cross-license deal, competitors can peacefully co-exist in a market place, based on a non-aggression pact. This is the preferred choice when the competitor's licenses are that strong that a legal fight risks to cause more harm (in money and time) than the own patents could bring royalties.
I personally perceive that cross license deals will play the most important role in this time of platform oligopolies. Companies who have no assets for self defense or deal making risk to lose out.
What are the big take-aways of our European and US patent?
When we filed the patent, e-Health and IoT still were a pretty green field. So we were able to file a great amount of claims.
Therefore I will focus hereafter on some lighthouse claims, which are promising value to companies active in the e-Health and the IoT sectors.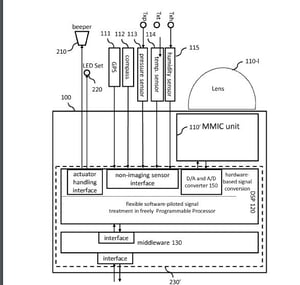 Application Agnostic
The claims are application agnostic. Meaning they cover all kinds of sensors and all kinds of applications, which makes it indeed broadly applicable.
The drawing is taken from the patent and gives illustrative examples of possible sensors (click on it to enlarge).
Sensor Device and potentially a mobile phone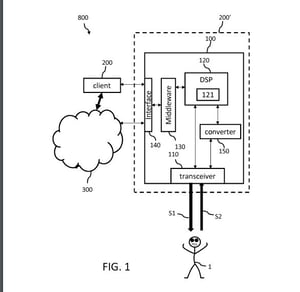 The patent argues in the logic of the Internet of Things and Services. A changeable rule engine (today rather referred to as "App") allows to set the rules of the multi-sensor device. Technically the multi-sensor and the mobile phone could be one single device.
In that case, we can speak of a smartphone or a wearable, like a smartwatch. Remember that the early filing dates are important in patent law because they are often used to determine who invented something first and therefore able to hold patent rights to it. Our filing was pretty early!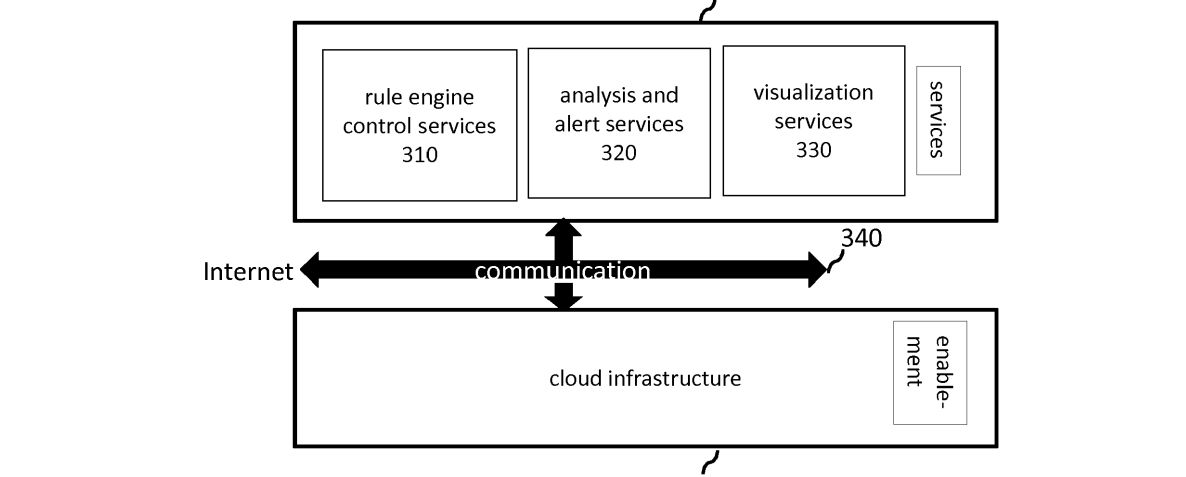 Big data analysis and cloud
The patent explicitly describes comparative analysis in the cloud, for instance to derive intelligent conclusions and to generate proactive advice. This plays into current AI research. Imagine comparative Holter diagrams (longtime cardiograms) across thousands of uses, potentially able to detect common patterns prior to heart attacks and alert the person or their doctor.
Specifically claiming the potential monitoring of health
The patent claims that the health status of at least one person can be monitored at a time, but also several concurrently. This is a significant advantage in comparison to the purely wearable Apple watch. Applications like radar or lidar can monitor several persons concurrently. Algorithms like MTI or MTD enable to track (and subsequently analyze) movements, including the movement of hearts or breath. A given example is SIDS (sudden infant death) prevention, even when the baby is sleeping next to a parent or sibling, as radars can differentiate between persons based on their biometric heart pattern.
Macromolecule and cancer detection
One claim in the patent is the detection of macromolecules, e.g., for cancer detection. This is another strong claim, with an earlier filing date than Apple's research activities in that direction.
Intrusion Detection, Intelligent Living, Automotive, Industry 4.0, ...
The claims cover many other IoT applications outside the e-Health segment. Claims cover the detection and analysis of movement or change of an object's cross section. These claims can be used e.g., in intelligent living applications to monitor
the well-being of elderly people (is the person breathing? heartbeat ok? is the person lying on the floor? are the person's movement patterns indicating a problem, etc.),
in autonomous driving contexts or
in Industry 4.0 applications.
Click here to read the patent.
If you are a company in the fields of e-Health, IoT, Automotive, I4.0 or cloud-based analytics, please contact us for discussions.


We thank Yves Scholten for support and inspiration for this article
Read more
US Patent US 9, 746, 551 B2 (August 29, 2017), by Ulrich Scholten & Eric Moskwa
US Patent US 10,732,274 B2 ( August 04, 2020), by Ulrich Scholten & Eric Moskwa
EU Patent EP 2 923 642 B1 (March 23, 2017), by Ulrich Scholten & Eric Moskwa