SkyRadar provides military universities and academies around the world, empowering the use of ECM and ECCM solutions.
To create Electronic Counter Measure Scenarios, SkyRadar offers an Active Target Radar which can create noise deception and Range Deception as well as Speed Deception.
A sophisticated DRFM Deception Jammer will be available by March 2023.
Electronic Counter Measures (ECM)
Skyradar offers 2 physical jammers which are adapted on SkyRadar's NextGen Radar.
They operate at 8 GHz with a milliwatt beaming power. This allows indoor operations, perfectly harmless for humans.
This first one is an active target, the second one is a DRFM Jammer.Another set of jammers in embedded in the radar simulator SkySim.
Active Target
In partnership with French Defense manufacturer ARESIA, SkyRadar developed an active target which is able to create typical jamming and deception features like noise jamming, angle deception, range deception.
The jammer's user interface is easy to use and can vary the amplitude of the jamming attack as well as the Doppler frequency. Various ranges can be created with set of cables adapted in different cable length.
See this article and video to understand more.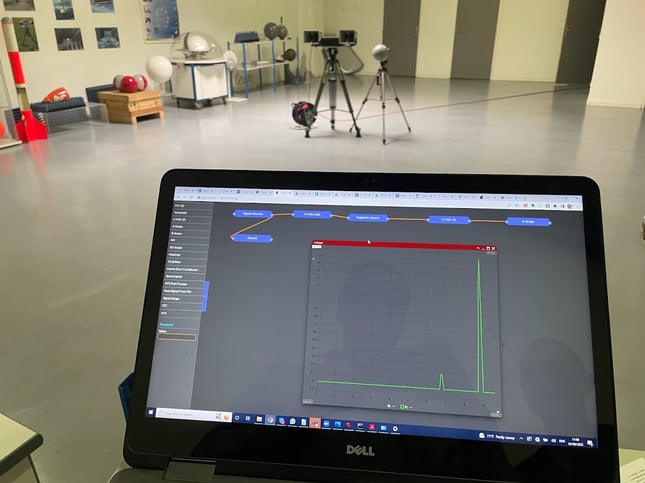 DRFM Deception Jammer
The DRFM deception jammer provides noise, range and speed deception. It can generate the typical radar lock-on and range gate pull-off
The software controlled deception jammer will receive continuous downloadable upgrades to evolve with changing demands over time.
SkySim Jammer Suite
SkySim's jammer set has been developed t provide a broad evolving set of scenarios. Its growing data-base includes various jammer finger prints, forcing students to cope with various jammer architectures.
Targets and their trajectory and RCS can be modelled freely.
Electronic Counter Counter Measures
Our training objective is to clean the radar image from jamming and deception based disturbances and fake targets.
SkyRadar offers several modules:
FreeScopes Basic I and II
FreeScopes Basic I and Basic II provide many algorithms like CFAR and MTI which empower students to apply basic defense principles.
FreeScopes ATC I and II
FreeScopes ATCI and ATCII provide more in-depth and modular algorithms, allowing to assemble working defense configurations.
This includes for instance the Kalman filter, MTD, Doppler filter or clutter map arrangements.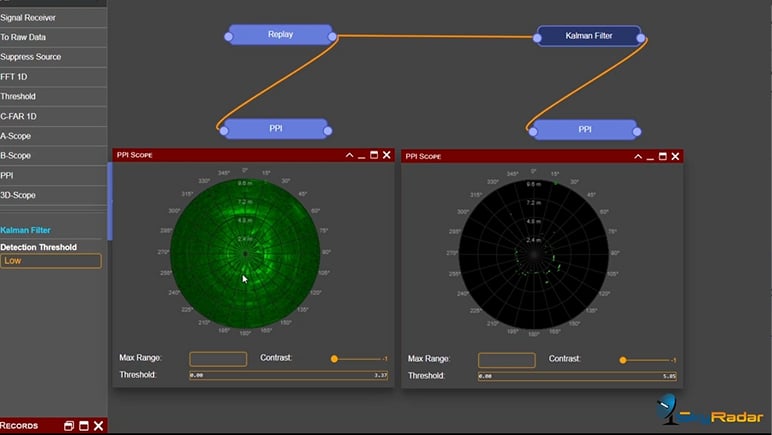 FreeScopes ATC Disturbance Filtering and Analysis I
This Module provides a set of prediction-based features including
Defense oriented Kalman filter (filtering out non-predictive values)
Clutter map comparison
MTI-based analysis
Doppler Phase Shift
FreeScopes ATC Disturbance Filtering and Analysis II
This second Module provides a set of features, using statistical data including
Statistical processing techniques for detecting DRFM repeat-jam radar signals
CFAR detection of deception jamming based on singular spectrum analysis
Discriminant Analysis
There is much more available, including Hybrid Warfare Scenarios as well as Cybersecurity and detailed tools to accompany trainees and students through full bachelor and master programs.
Please note that the delivery of these solutions is subject to export restrictions, requiring a case to case release by the European Authorities.
Get Updates on the Growing Product Portfolio
Stay tuned to be always the first to learn about new solutions and use cases for ATSEP.
Or simply talk with us to discuss your training solution.