Teaching Material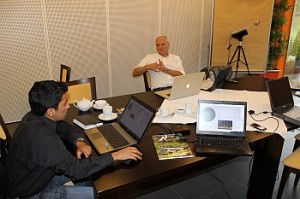 SkyRadar's Radar Training System comes with a set of sophisticated training material. The SkyRadar teaching material (in English Language) consists of:
A curriculum for the train-the-trainer seminar
The transparency hand outs (on CD ROM) from the Train-the-Trainer Seminar. They can be used and adapted unlimited in time within the training purposes of your academy.
Training Manuals with Defined Learning Objectives and detailed content.
Test Manuals

Students' versions,
Teacher versions which include the answers and potential side comments.
Product Manuals. Those are the user manuals which explicitly explain how to use a specific SkyRadar training hardware and software.
It is provided to our customers of the SkyRadar PSR and SSR suite.
Contact us and ask for SkyRadar's modular Radar Training System.