PSR Clutter
Part #: SkyRadar PSR-Clutter-Ver.4.1

PDF
The Clutter Synthesizer Module is part of SkyRadar's Radar Training System. It allows for the generation of various kinds of clutter. In addition it provides additional methods to eliminate this clutter.
The Clutter Module consists of:
One (1) license for Target Tracking software activation (software deployment into the hardware factory-provided).
The system feeds in the following disturbing signals through a clutter synthesizer: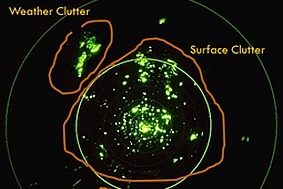 Natural Volume Clutter – Weather Clutter
Hostile Volume Clutter – Chaff. Chaff is a deliberate radar counter measure.
Surface Clutter – Ground or sea returns
Static Point Clutter – Individual tall buildings or objects
Moving Point Clutter (Angels) – Birds, insects or similar swarms of moving objects.
It provides methods such as:
Sensitive Time Constant
Moving Target Indication
Velocity Sensitivity
Electronic Maps
Statistical Methods
Radar Cross Section Analysis
The system shows how moving targets can be discriminated from static clutter through MTI application. Since aircraft usually move much faster than weather or surface targets, SkyRadar's velocity-sensitive system teaches how to eliminate unwanted clutter from the radar indicator. Moving point clutter is more difficult to remove because the characteristics are very much like aircraft. Surface clutter is eliminated through electronic maps and statistical methods. Point clutter is eliminated through statistical methods, Radar Cross Section Analysis and more.
Contact us and ask for SkyRadar's modular radar training system.