SkyRadar ToGo

PDF
The low cost, all-in-one and ready-to-use radar system for indoor and outside applications, applicable for close and medium range radar measurements, able to measure in distances up to 400 m and speeds of 400 km/h. SkyRadar ToGo comes in the standard version and in the Superheterodyne expansion for extended performance ( exceeding 400 km/h and distances of 1000 m).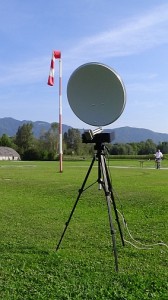 Key Features:
Operating in FMCW, Doppler, FSK and Mono Pulse Mode
Comfortable graphical visualization including A-Scope, B-Scope and Raw-data representation
Short range 24 Ghz transceiver with Dual 30 patch antenna
Parabolic reflector
Beam aperture 25°/12°
Recording for Doppler and FSK Mode
Success Stories:
SkyRadar ToGo was successfully applied for high speed measurement in the Austrian Air challenge, measuring speeds of up to 379 km/h.