Cargo & e-Cargo Simulator for
Safety & Security training
AWB, CSD, DGD, ACI, ULD, and more!
The eCargo Training System provides an environment for technical and procedural training of aviation security and the CARGO supply chain as regulated by IATA and EU in the context of ACC3 (protected supply chain limited to certified forwarders, carriers and GHAs).
e-CARGO is the base module of a full CARGO laboratory.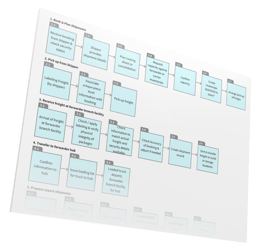 e-Cargo is a training environment for the following subjects:
General end-to-end process training including the roles of forwarders, ground handling agents, carriers and customs

e-AWB (e-Airway Bill)

e-CSD (e-Cargo Security Declaration)

e-DGD (e-Dangerous Goods Declaration)

e-ACI (e-Advanced Cargo Information)

ULD Configuration

The interconnection of the processes with Flight Plan and Flight Data Processing Systems

Cybersecurity Training for CARGO processes and secure supply chains

Fill in the form to the right to contact us and state your specific requirements. It will be our pleasure to help you conceive the most suitable and economical solution for your inidivdual requirements.
Or get more technical details.