PSR & SSR Simulator
Part #: SkyRadar Simulator-Ver.5.0 PSR:

PDF and SSR:

PDF


The SkyRadar PSR & SSR experimenter is part of SkyRadar's modular Radar Training System. It can be added plug-and-play to the CloudServer and is operated through SkyRadar's FreeScopes Software.
It includes the following simulators:
Primary Surveillance Radar

Controller Work Position of PSR Pulse

Pulse
Constant Wave (CW) / Doppler
Frequency Modulated Constant Wave (FMCW)
Synthetic Aperture Radar (SAR)
inverse Synthetic Aperture Radar (iSAR)

Secondary Surveillance Radar

Mode-A/C
Mode-S
ADS-B
Collision Avoidance (TCAS) and Minimum Height Alert
The system can be operated through ethernet or wireless networks. A minimum of 8 pseudo-pilot positions (PPP) can provide concurrent airspace settings. The number of concurrent users (controller work positions CWP) is not limited and can exceed 500 concurrent students.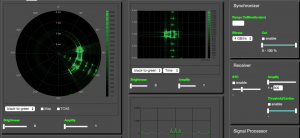 List of components:
One (1) simulation server
Prerequisites:
Hardware Features of Simulation Server
One (1) 19" Rack Server
Two (2) Processors Intel Xeon E5-2630v3, 2,40 GHz, 8/16 1866, or similar
One (1) Operating System Windows Server R2 Standard or newer
The server operates with 16 independent actual processing units (called "cores")
PSR & SSR Experimenter Software Features
The simulator works with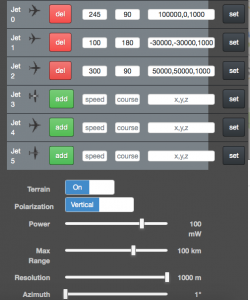 Pseudo Pilot Positions (PPP)

PPPs allow to choose and place aircrafts in the airspace, to set speed, course, position and altitude
In addition, the PPP is the control center for application-dependent controls e.g., for environmental reflections, polarization, range resolution, angle resolution, etc.

Controller Work Positions (CWP)

CPWs represent the view of the air traffic controller
All CWPs include a PPI-Scope, an A-Scope and a B-Scope, and application dependent controls such as sliders for brightness and amplification in the scopes, filters such as Sensitive Time Control, Signal Amplification, Threshold/Limiter or the function of Moving Target Indication.
Radar Modes
PSR Pulse
CW / Doppler
FMCW

Object detection, optimisation of radar display settings, Radar Cross Section analysis,
change of polarisation, Sensitive Time Control, threshold and amplification, etc.

SAR and iSAR

Radar Cross Section analysis
Optimisation of radar display

SSR Mode A/C and Mode S

Sidelobe Surpression, uplink format (UF), downlink format (DF), DBS registers, ADS-Principle.
Visualisation of PPI (aircrafts on map), B-Scope, A-Scope, pulse graph, visualisation of data packages embedded in the signal
TCAS