FMCW base
Part #: SkyRadar PSR-FMCW-Ver.5.0

PDF
Description
"FMCW base" is a fully operational plug and play FMCW radar that comes with built-in antenna and the complete control and visualization software. It operates with an Phased Array antenna and provides applications as FMCW mode, Doppler, Frequency Shift Keying etc. The FMCW Base software allows for comfortable control of the system, providing multiple ways of visualization such as FMCW Fast Fourier Transform, Doppler, IF Signals or the VCO Ramp. The software also provides calculation and visualization for the Synthetic Aperture Radar extension.
Parts
The FMCW Module consists of:
one (1) phased array antenna
one (1) base unit, including

one (1) digital signal processing unit (DSP)
one (1) FMCW transceiver

One (1) Visualization and Control Software for the FMCW module
One (1) Laptop Computer (responding to current state-of-the-art)
One (1) cable set.
Prerequisites
Extensions
Hardware Features
SKYRADAR FMCW is a 16Bit data acquisition and processing system with a total 250k/s sampling rate. It contains all hardware necessary for acquiring Radar signals of SkyRadar Transceivers. SKYRADAR FMCW contains a motherboard with power supply, amplifiers and I/O connectors. Data acquisition is performed by a NI-USB-6211 16Bit multifunction DAQ module from National Instruments mounted on the backside.
The easy to handle SkyRadar Signal Explorer software features many basic Radar functions including an exciting FSK (Frequency Shift Keying) operation mode for high resolution distance measurements of moving objects.
Supports Doppler, FMCW, FSK
USB Interfaceto Host Computer
Onboard Low Noise Power Supplies
Connectors for Different Radar Devices
Amplifiers for Native Doppler Transceivers
High Performance 16 Bit Data Processing
250k Samples/sADC and DAC
Powerful Signal Explorer PC Software
NI LabVIEW® DAQmx USBInterface
Applications

Radar Training and Research System
Evaluation of Advanced Shortrange Radar Applications
Development of Own Data Processing Algorithms
Signal Analysis and Logging
Software Features
SKYRADAR FMCW software comes with a set up procedure containing all necessary components :
SKYRADAR FMCW Signal Explorer Software
National Instruments DAQmx driversoftware
National Instruments LabVIEW runtimesysterm
FMCW Radar Transceiver
24 GHz short range transceiver
180 MHz sweep FM input
High sensitivity, with integrated RF/IF amplifier
Dual 30 patch antenna
Buffered I/Q IF outputs
Additional DC IF outputs
Beam aperture 25°/12°
RSW Rapid Sleep Wakeup
Slim 6mm thickness construction
The Transceiver is a 60 patch doppler module with an asymmetrical narrow beam. This module includes a RF low noise amplifier and two 47dB IF preamplifiers for both I and Q channels. This greatly improves flexibility in FSK ranging applications.
Antenna System Diagram
The following diagram shows module sensitivity in both azimuth and elevation directions. It therefore incorporates the transmitter and receiver antenna characteristics.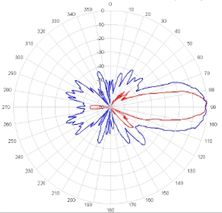 SkyRadar Modular Radar Training System - FMCW Base

Similar to the SkyRadar Base Module, the FMCW base is the core of a range of applications. It operates with an Phased Array antenna and provides applications as FMCW mode, Doppler, Frequency Shift Keying etc. The FMCW Base software allows for comfortable control of the system, providing multiple ways of visualization such as FMCW Fast Fourier Transform, Doppler, IF Signals or the VCO Ramp.

Brand: SkyRadar Modular Radar Training System

Manufacturer: SkyRadar

Model: SkyRadar PSR-FMCW-Ver.5.0

Product ID: SkyRadar PSR-FMCW-Ver.5.0

price on request, New